House Washing Benefits - Top Reasons to Soft wash your vinyl siding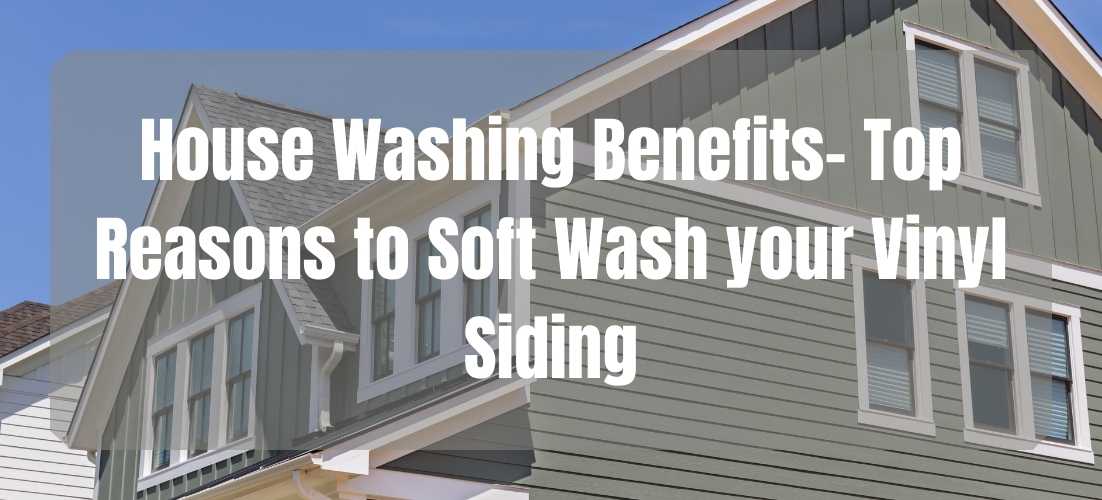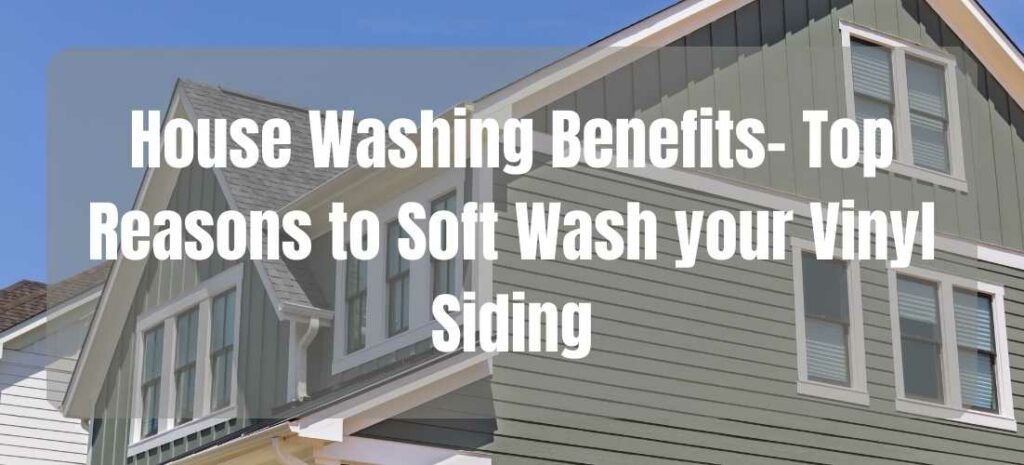 If you want your house to look the best it can, then you will need to start with the exterior. Soft washing can be a very effective way to get the outside of your home looking as good as new.
Soft washing is a method of cleaning that involves a low-pressure stream of water and special solutions. The process removes bacteria, mildew, algae, and other organic grime from your home's siding and roof. It's different from pressure washing, as the pressure is much lower and softer, hence the name. 
Soft washing is an effective and efficient way to clean the exterior surface of your home. There are lots of benefits of soft washing, as it can keep you and your family healthy, save the roof and other fixtures from damage, and can save you a lot of money in repairs.
The Benefits Of Soft Washing
Keep Your Home Looking Good
A few months of rough weather can make your home look shabby quite quickly. Dirt starts to collect, and plant matter starts to grow. Your house will start to get blotches, stains, and streaks on the roof, siding, walkways, and driveway. 
You need to maintain the exterior of your home to keep it looking at its best. Cleaning your home with soft washing can help you to do this. 
When you soft wash the house, dirt is cleaned away, and any bacteria or other contaminants are killed. This makes your house look lovely, and can even increase its value. 
If you want your home to stay looking beautiful, then you should soft wash your siding, deck, and roof. This also helps to prevent bacteria from growing, as soft washing kills these organism. Soft washing gets rid of ugly stains and makes your home look restored.
If bacteria in the form of mold or mildew is growing on the outside of your home, then it will soon start growing inside your home. Bacteria like this can cause a lot of different respiratory issues and allergic reactions in your family members. 
As soon as you notice mold growing on the outside of your house, you should start cleaning it off. By soft washing your home, you are reducing the mold and mildew, and kill these organisms at the root. This means you won't get any more mildew or mold exposure, helping you and your family stay healthy. 
Increase The Longevity Of Your Home
Mildew doesn't only carry risks to your family, but it can also cause extensive (and expensive) damage to the exterior of your home. Damage like lichen, algae, and fungi on the shingles of your roof will deteriorate your roof's lifespan. 
If you regularly look after your roof with a soft wash, you can avoid damage and keep your roof strong. 
A dirty roof also attracts more sunlight, as it is a darker color than a clean roof. This not only heats the house up more than you might want but can also prematurely age the roof. The same is true for the singing. Algae, bacteria, and moss can make your home deteriorate, decreasing its longevity. 
Soft washing not only cleans, but also extends the lifespan of your roof, siding, and deck.
Soft washing gets rids of the homes of pests that are trying to move into your house. Roaches, rodents, birds, and other pests are much less likely to get into your home if the outside is kept lovely and clean. Keep them away with a regular soft wash.
If your roof has got dirty and damaged, then you will need to replace it a lot sooner than a roof that has been properly looked after. Repairing or replacing a roof can be very, very expensive to do. 
By soft washing your roof, you will expand the lifespan of your roof and won't need to repair or replace it as soon as you would a roof that is left to get in poor repair. 
You can also save money on painting the house, as soft washing can make your house's exterior look new again. Soft washing can save you a lot on exterior repairs and redecorating. 
A dirty, dark, stained roof looks unattractive but also can cause your electricity bill to dramatically increase during the summer. The darker color of a darker roof attracts more sun the lighter color of a clean one. 
If your roof is attracting a lot of sunlight, this adds a lot of heat to the attic, making the house warmer, and your electricity bill higher from having to turn up the air conditioning.
A roof that has been soft-washed will reduce your cooling costs during the hotter months, and save you energy.
As well as saving you money on your electricity bill, soft washing is also eco-friendly. Soft washing uses a biodegradable solution that destroys organisms and their offspring at the root. Other cleaning methods for the exterior of the house often use much harsher chemicals that can kill grass or other plants around your home. 
With soft washing, there's no need for scraping, scary chemicals, brushing, or pressure washing to get these benefits. Soft washing is eco-friendly and has the same pressure as a water hose, so you, your home, and the environment are kept safe. 
For all your pressure washing needs, you should always hire a professional like Top Care Cleaning. We service the greater Grand Rapids area providing a wide selection of cleaning services including carpet cleaning, window cleaning, gutter cleaning, upholstery cleaning, area rug cleaning, blind cleaning, tile/grout cleaning, and 24-hour emergency water damage restoration. Call us on 616-530-9129 for a free estimate. 
Our dedication to our clients, years of experience, knowledgeable technicians, and professional training programs are only a few reasons that Grand Rapids residents have chosen Top Care as their cleaning service provider year after year. Customer Service is our focus and our success is built around providing an exceptional cleaning experience for every client that we work with.