What is the average cost to Pressure Wash a home?
The average cost to pressure wash a house varies depending on the size of the home and the level of dirt and debris that need to be cleaned. However, most homeowners can expect to pay between $350 and $700 for pressure washing service.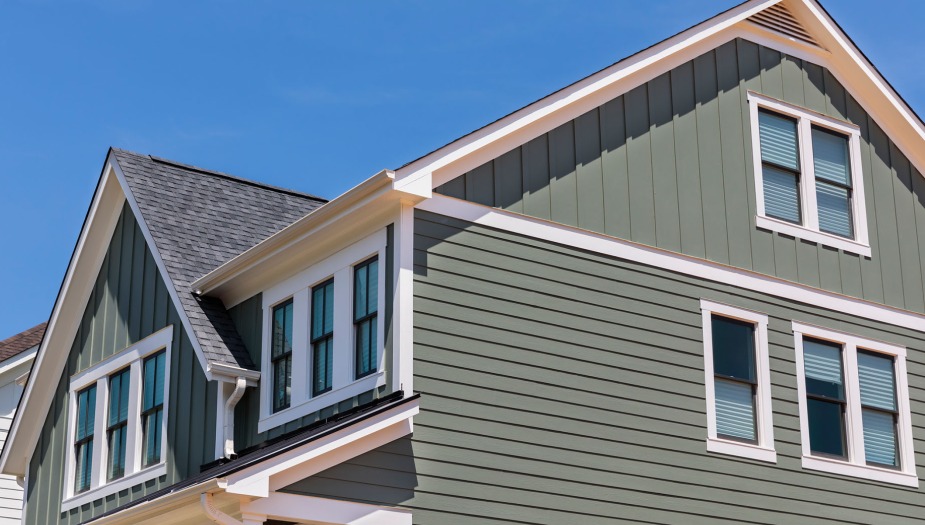 What factors affect the cost of pressure washing a home?
One of the primary factors that affects the cost of pressure washing a home is the size of the home. A small, one-story home will typically cost less to soft wash compared to a larger two or three-story structure with multiple garage bays and other additions.
Location also plays an important role when determining pressure washing costs; areas with higher local labor rates may lead to more expensive services.
In addition, the type of siding and square foot of a house can determine the price; specialty materials may incur additional fees due to specialized cleaning supplies or longer cleaning times. All these aspects should be taken into account when looking for a professional power washing service.
Cost to Pressure Washing Siding
The cost to pressure washing siding on your home will range on average from $350 to $700. Larger residential pressure washing projects and commercial pressure washing can come in over $1200 to $2500.

Pressure washing vs soft washing
Pressure Washing uses low volumes of water with high pressure to blast dirt off the siding of a home. Another option is having your home Soft Washed.
Soft washing is an effective way to clean your home without damaging the siding or other surfaces, and it can extend the life of your paint job. If you're considering soft washing your home, be sure to get multiple quotes from different companies before making a decision.
Define soft washing
A method called Soft washing is an effective, low-pressure cleaning process used to clean the exterior of homes and buildings. It uses a combination of low pressure, environmentally safe soaps, and specialized nozzles to safely remove stains from all types of surfaces, ranging from vinyl siding to asphalt shingles.
Unlike traditional pressure washing techniques which can be damaging and abrasive, soft washing gently dissolves dirt, grime, mold and mildew without harming the underlying surface. This not only makes it an excellent choice for removing bacteria on surfaces but also for maintaining them looking like new for many years to come.
The difference between Pressure washing and Soft washing
Pressure washing is a more forceful form of cleaning and uses higher water pressures to remove dirt, grime, mold and mildew. This can be effective for removing hard-to-remove stains or for surface preparation prior to painting.
However, pressure washing can also damage surfaces if not used properly.Soft washing on the other hand uses low water pressure and special cleaning solutions. This method is effective for removing bacteria, mold, mildew, and dirt without damaging the underlying surface.
It also helps maintain a more consistent appearance over time as it reduces the need for additional cleanings or painting jobs. Overall, soft washing is typically a more cost-effective option than traditional pressure washing and provides a longer lasting clean.
It is also safer for the environment as it does not require harsh chemicals or high water pressures that can damage surfaces, plants, and other features.
Why is soft washing important for homes?
Soft washing is an important process in caring for homes. Unlike power washing, which uses high pressure to blast away debris and dirt, soft washing involves using a gentler solution of chemicals that take longer to break down grime but are far more effective in the long run.
Not only do they help to peek underneath the surface and clear away those not-so-visible layers of dirt, but they provide a highly efficient method of getting rid of potentially hazardous mold that can stare to appear on the side of a house, as well as other gray and brown stains.
This means that over time homeowners can benefit from improved curb appeal at their residence while also ensuring the side of their home is free from any damage associated with high water pressure.
How often should a home be soft washed on average per year/season/month?
The frequency of soft washing a home will depend largely on the environment it's located in, as well as how much exposure the exterior surfaces get to sun, wind and rain. In general, areas with an extremely hot climate should opt for quarterly soft washing to keep the home looking clean and inviting.
For temperate climates, bi-annual soft washing is recommended; enough so that dirt and grime don't have time to accumulate. Areas with milder weather are usually fine receiving power washes every twelve months, provided that winds and storms don't coat the exterior surfaces in heavy layers of dust or debris.
Ultimately, it's best to assess the condition of a home each season or every few months – if it looks like it could use a good cleaning, then a soft wash is usually the way to go!
How can homeowners save money on soft washing their homes themselves instead of hiring a professional company?
Homeowners often search for ways to save money on home repairs and maintenance. Soft washing is a great way to clean the exterior of a home and keep it looking great, however hiring a professional company can be expensive.
To save money on soft washing though, there are several steps that homeowners can take. For starters, they should research and purchase the right type of cleaning materials; this includes chemicals, equipment, hoses and sprayers.
Additionally, if needed homeowners should watch tutorial videos or ask people who have soft washed their own homes for advice. Finally, they need to make sure to take the time to properly clean their home as an improper job could cause more damage in the long run and cost even more money to repair.
With these tips and tricks in mind, homeowners can successfully save money on soft washing their own homes instead of relying on a professional company.Soft washing is an important part of keeping your home clean and preventing damage to the exterior.
While it is possible to save money by soft washing your home yourself, it is usually best to hire a professional company like Top Care Cleaning. We have the experience and equipment necessary to get your house looking its best. Call us today at (616) 530-9129 for a free estimate!