Non-Pressure Roof Cleaning – 5 Top Reasons You Should Have a Professional Soft-Wash Your Roof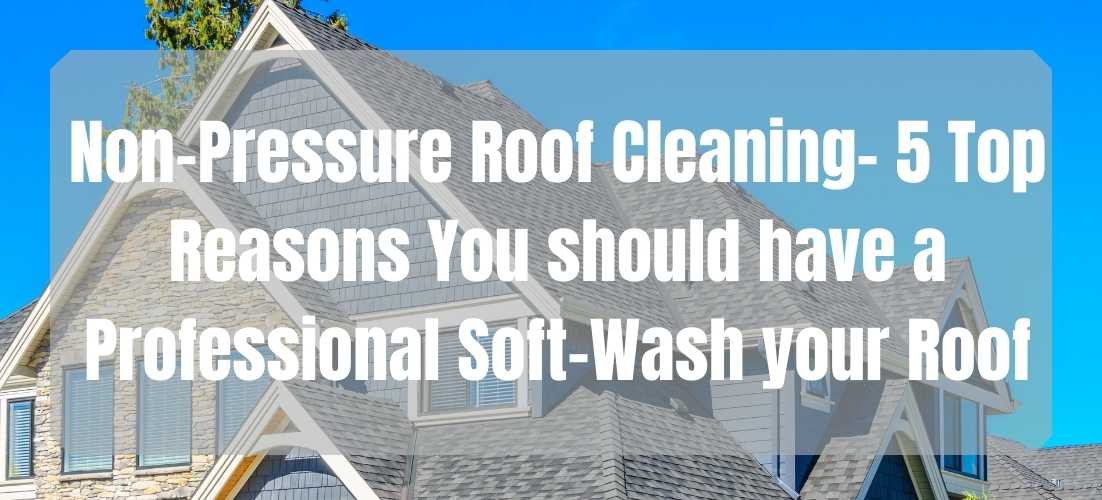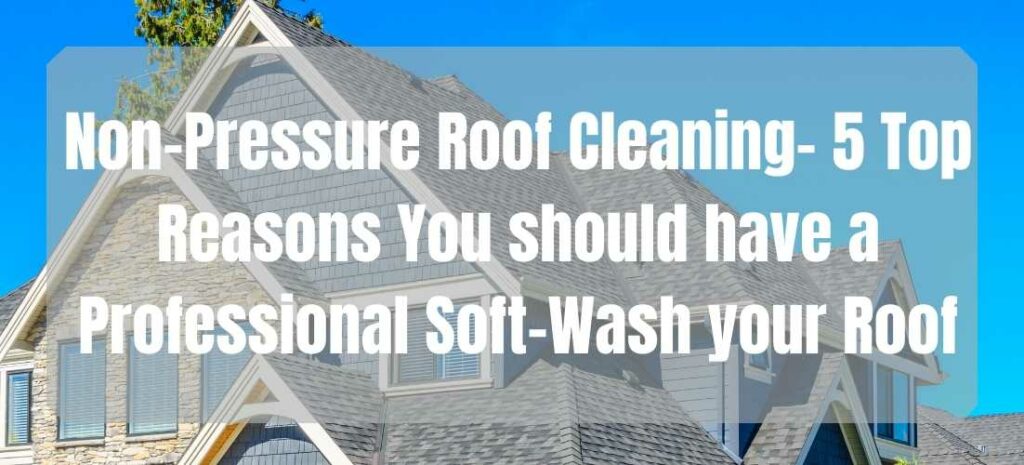 There are dozens of great reasons for hiring professional room cleaners, including: 
It saves you money and time

It eradicates mold and algae 

It keeps the roof clean and looking good 

It makes the roof durable
The roof is designed to be hardy enough to withstand all external elements. However, you will be surprised by how delicate it can be when it needs cleaning. It is advisable to use the soft-washing roof cleaning technique, to this end – and have a professional do it. 
Here are five reasons why you should have a professional soft-wash your roof:
The roof collects a wide range of dirt particles over time. These include dry and rotting leaves, pieces of paper and plastic, bird poop, and more. It all makes for an unappealing sight, and it makes the whole house look dirty and somewhat dilapidated. 
Cleaning the roof gets rid of these dirt particles. Professional cleaning is thorough, and it leaves the roof spotless and looking as good as new. A spotless roof looks great from afar. You will also be glad to know that the improved curb appeal will help to maintain or increase your home's value – and an unappealing roof will definitely compromise your home's value. 
The roof can be delicate, as mentioned earlier. However, soft-washing is both gentle and thorough, so there is minimal likelihood of causing damages.
2. To Keep Mold & Algae Out
The roof collects a wide range of dirt particles, as mentioned. Some of these organic particles (such as rotting leaves) foster the growth of mold and algae. 
Mold and algae will keep growing over time, making their effects (including its disgusting appearance) worse over time. The mold and algae will also grow inward, eventually finding their way into your house. This is especially alarming, as exposure to these pathogens can cause allergenic and respiratory conditions. 
Professional cleaners use special detergents that kill mold and algae. These detergents also prevent further growth of the mold and algae, keeping them out of your house – and preventing the respiratory and allergenic problems discussed earlier.
3. To Keep Insects & Pests Out
Dirt particles on the roof can attract a wide range of potentially harmful and dangerous insects and pests. For example, dry leaves are a food source for some insects. Some insects also thrive on the moss or algae growing on the roof. 
Insects on the roof can cause a range of problems. Some of them can bite or spread infections. Additionally, some of them can eat away at the roofing materials, causing structural damage to the roof. Fortunately, getting rid of rotting leaves and other dirt particles by cleaning will keep insects and pests out.
4. To Prevent Costly Damages
The roof is designed to last for years, but it can only take so much before breaking down. For example, the collection of leaves and other dirt particles can weigh down on the roof, applying too much pressure on the supporting materials. Additionally, the growth of mold and algae can also cause irreversible damages on roofing materials such as asphalt shingle. 
Roof damages can be costly, especially because you may be required to replace several materials. They can also be inconveniencing, including requiring you to find temporary accommodation as the contractors work. 
Your insurer will be reluctant to offer compensation for damages caused by dirt particles. Fortunately, proper roof cleaning and maintenance will prevent damages. Proper maintenance can also prompt your insurer to ease your insurance premiums.
5. To Extend the Roof's Life
Most roofs are designed to last for longer than a decade. However, damages can compromise their durability, as mentioned. 
Roof cleaning is an essential maintenance task. Ideally, professional roof cleaning services should leave your roof spotless and looking as good as new. This implies preventing potentially damaging problems, such as the collection of tons of rotting leaves or the runaway growth of mold and algae. The result is a better looking and long-lasting roof.
Top Care Cleaning – Quality Cleaning Services Guaranteed
Top Care Cleaning is the leading local cleaning company in Grand Rapids. We offer a comprehensive range of cleaning services covering virtually every part of the house – including the roof. 
We guarantee 100% satisfaction in our roof cleaning services. We have a team of talented and highly trained cleaners, and we equip them with the best cleaning equipment and detergents. Our cleaning services are also quick and thorough, and we will get rid of the dirt as fast as you desire. 
You can trust us to clean your roof spotless. As such, get in touch via 616-530-9129 to learn more about how we can help. We offer free phone estimates.