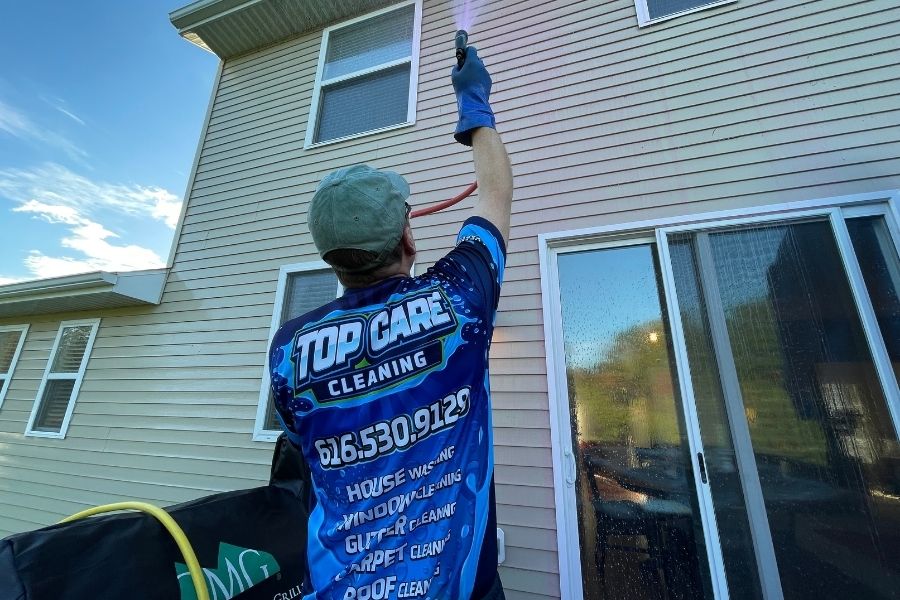 It's no secret that a clean home is a happy home. But what is the best time to have your home soft washed? Springtime? Fall? Whenever the mood strikes?
Turns out, there are a few things to consider when scheduling your next soft washing. Read on to find out the best time to have your home soft washed!
Spring cleaning is the perfect time for a soft wash of your home
Spring is an extraordinary time of the year to get your home soft-washed. Given that pollen and other allergens are blowing around, it's important you take action to minimize the dust and dirt accumulating on the exterior surfaces of your home.
Soft-washing goes beyond standard pressure-washing as it removes layers of soiling from your house without using any extreme force. Not only will this process sustainably clean away pollutants such as weeds, mold, mildew and algae but it eliminates those pesky and dangerous allergens encouraging a healthier living environment too!
Summer is also a good time to have your home soft washed, especially if you live in an area with high humidity
Summertime is a great opportunity to spruce up your home and get it ready for the rest of the year. For those living in warm, humid climates, one of the most effective and impactful ways to care for your house is with a soft wash.
Soft washing takes advantage of mild soaps and detergents that are designed to remove dirt, grime, mold, mildew and other contaminants from your exterior surfaces before rinsing it away with low pressure water.
This allows you to keep your siding looking like new while also eliminating irritants that could affect allergies or asthma. Taking advantage of all summer has to offer, including a good soft wash, might just be the easiest way to keep your home clean and happy this season!
Favorable weather in the fall is a great time to soft wash your home
Fall is the ideal time to get your home's exterior soft washed. The cooler, drier weather makes it easy for your property to dry faster and more thoroughly after the treatment has been applied.
In addition, many fungus and other organisms thrive in warmer months, making fall the perfect time for soft washing services as this treatment helps ward off some of these harmful organisms.
Soft washing also helps protect your home from harsh winter conditions by removing stains, dirt, and debris that might otherwise cause paint or stucco damage in the colder season.
So don't let chilly autumn temperatures pass without taking advantage of a good soft washing session -your home will thank you later!
Freezing temperatures might not the be the best time
Winter can be a challenging time of year to have your home soft washed, as temperatures are usually lower and there is a risk of ice buildup on treated surfaces. Instead of taking the chance that the treatment isn't done properly due to cold weather, it's better to wait until the spring or summer when temperatures are warmer and consistent.
While some may be tempted to power through the winter with their cleaning techniques, it's better for both you and your home if you wait until conditions are more favorable for soft washing. It might require a bit of patience, but in the end you'll have a better result when you take the time to do things properly.
As you can see, there are benefits to soft washing your home no matter what time of year it is. However, spring and fall tend to be the best times because of the lower pollen count and cooler temperatures respectively. If you're thinking about having your home soft washed, call Topo Care Cleaning at (616) 530-9129 and we would be more than happy to help you out!