What is the difference between Pressure Washing and Soft Washing?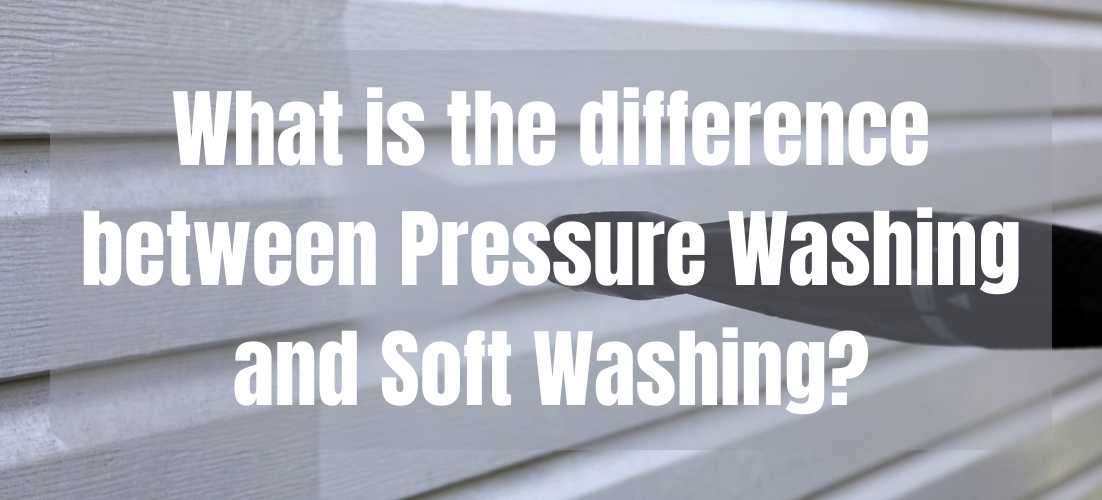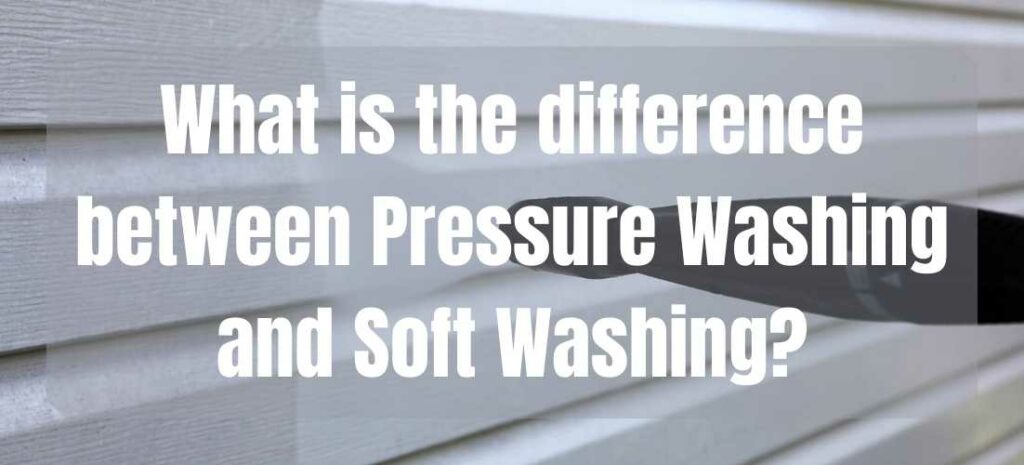 Getting rid of all the excess dirt and grime that's built up on the outside of your home can be such a satisfying experience, but often it can feel impossible to complete such a task without the support of some serious equipment. A professional house washing service can totally transform the exterior of your property, providing some really dramatic results that will leave your neighbor's green with envy. When regular cleaning and maintenance options simply aren't  enough, soft washing and pressure washing can be the perfect option for you to explore to meet your expectations with ease. 
When looking for the right house washing service, you will likely encounter two main washing concepts – these two concepts are known as pressure washing and soft washing. If you don't know the differences between these two terms then do not fret, as many people share your bewilderment, and are in need of some serious clarification! Luckily, it needn't be difficult to wrap your head around the two different kinds of house washing services, so simply read on to improve your understanding and see how each method can benefit your property.
What Is Pressure Washing?
Pressure washing utilises extremely high pressure water to blast off anything from dirt to paint. It's said that the water used in pressure washing is being forced out at such a fast speed it can actually slice through a finger right down to the bone in less than a second, and even descale a fish from several metres away. Pressure washing is a very effective solution for those seeking to clean various hard surfaces outside the home. Pressure washing can be utilised for high traffic surfaces like stone pathways, hardwood decks and other similar materials that need a good scrubbing. Essentially, any surface that is particularly sturdy which traps dirt or falls victim to staining is a sure fire candidate for pressure washing. As the water speeds out with such force, pressure washing should not be used on delicate surfaces that will be unable to withstand the power.
Though soft washing sounds almost like the opposite of pressure washing, the same equipment is being used in both processes with the only difference being a change in total pressure. The full force of a pressure wash is simply toned down to provide a more gentle clean, with a lower PSI (or pressure per square inch). Soft washing uses less than 500 PSI, so you can maintain ultimate peace of mind knowing that your home's exterior is safe and clean, no matter how weak and dirty it may be. When soft house washing, you must substitute the usual tip of the washer for one that allows for a wider spray which helps to further decrease the pressure. To add to this, soft washing makes the most of specially designed cleaning formulas that can easily cut through any grime lurking on your home's exterior surfaces. These formulas are often environmentally friendly and won't strip paint, gloss or any other substances, so this gentle method is better suited for things like garden furniture and other similar surfaces.
So, Which Option Is Best For High Quality Roof Cleaning?
As pressure washing is best for high traffic areas, it can often be too strong for roofing. Using a high power pressure washer to clean your roof could cause severe damage to your shingles, dislodging tiles and potentially even leading to leaks and damp inside your property. The best option for roof cleaning is always soft washing, as it's a more gentle yet equally thorough choice that can get rid of dirt and grime without damaging your roof. The special formula used during soft washing will break down the mess that has built up on your roof, allowing the water to wash it away without the need for extreme pressure. Always choose soft washing when you need to clean your roof properly!
Common Uses Of Pressure Washing
There are several home cleaning projects that require the use of pressure washing, including: 
Concrete areas such as driveways that become stained by car tires 

Brick walls that can withstand high pressure 

Hardwood decks in backyards that attract moss and other unsightly issues
Common Uses Of Soft Washing
There are also several home projects that require a little less pressure in the form of soft washing, including:
Exterior vinyl siding to refresh and revitalise homes with cladding 

Roof cleaning for ultimate home maintenance
It's absolutely vital that you can make the right decision when choosing in between pressure washing and soft washing, as you risk causing damage to your home's exterior or simply wasting your time and money by failing to complete your cleaning project sufficiently. You can seek out further advice from your house washing specialist to ascertain which method will best suit your needs, so don't be afraid to arrange a consultation to make the best choice. 
Performing regular house washing will help to keep your property looking fresh and well kept for years to come. Allowing your home to develop serious dirt and grime can impact upon the strength of its structure, as even something as simple as clogged up roof gutters can cause flooding and damp inside your property. Having damp inside your home can cause serious health issues for you and your family, so it definitely isn't worth the risk. Taking the time to utilise both soft washing and pressure washing will ensure you can avoid these risks, as well as keeping the curb appeal of your home at its optimum level to maintain your property's maximum value. 
No matter what house cleaning project you wish to undertake, Top Care Cleaning is here for all your soft washing and pressure washing needs! We can help you to take care of your property, so don't hesitate to get in contact today to make the most of our services now. Our team of trained experts can tackle any cleaning project, no matter how big or small, and we are ready and waiting to support your property transformation today!