Area Rug Cleaning Service - Grand Rapids MI
Area Rug Cleaning Professionals - Drop Off Service
There are several different processes we can choose when it comes to cleaning your area rug from surface cleaning, full submersion wash and dry cleaning.  A few factors that determine this are whether the area rug is hand knotted, tufted or machine made.  Answers to the questions below will help us determine if we will be surface cleaning the rug, dry cleaning or performing a full wash.
Is the area rug hand knotted, tufted or machine made?
Does the area rug have a pet urine contamination concern?
What was the cost of the rug and is it worth investing in a full submersion wash?
When was the last time the area rug was cleaned?
Is the rug structurally sound to withstand a full wash?
What are the rug owners expectations?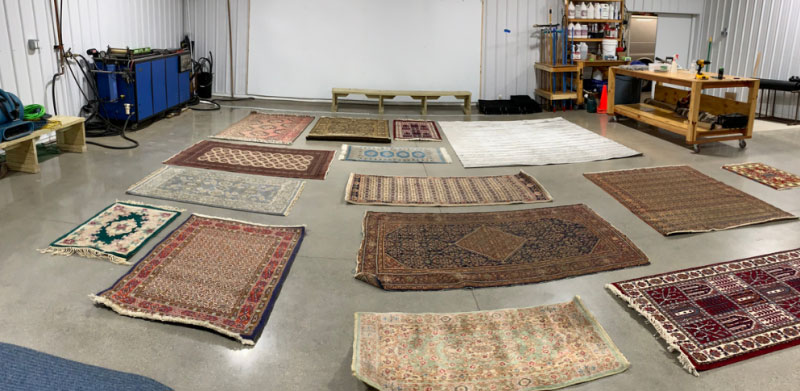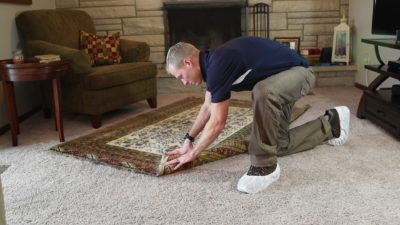 The first step in our rug cleaning process is to inspect the rug. During the inspection we will note any areas of concern including, staining, odor, possible repairs, and expectations.
Dusting Area Rug (dry soil removal)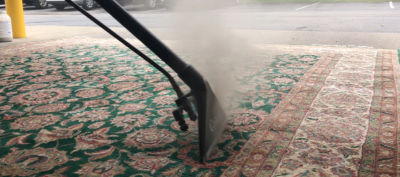 Our dusting process entails blowing compressed air into the rug to assist in removing the fine dust and particles. This process can also be used in part with upright vacuuming to remove as much dry soil as possible.
Full Wash Area Rug Service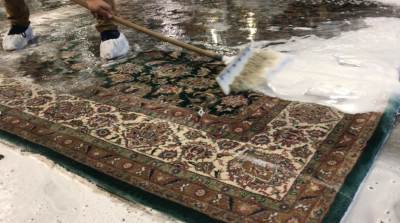 Our full wash method starts with a thorough rinse of the rug with cool clean water.  This helps to remove any excess loose soil or urine contaminates before the cleaning process.  We then apply our fiber specific pre-conditioner and groom it into the entire rug.  The next step is to rinse the rug multiple times with cool clean water.
Area Rug Surface Clean Service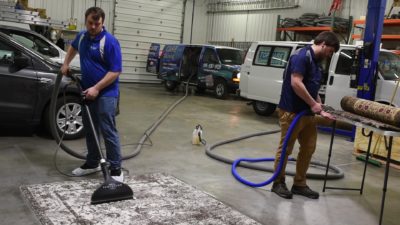 Surface cleaning your area rug involves a similar process to cleaning your wall to wall carpet in your home.  We begin by applying a fiber specific pre-conditioner to the entire rug. The rug can then be steam cleaned or we can utilize a cold water cleaning method if your rug has natural fibers in its construction.
Stain Removal and Fringe Cleaning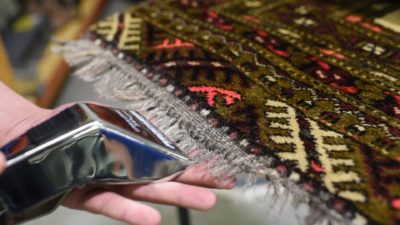 Once the rug has been cleaned we will perform additional stain removal attempts if one persists through the cleaning process.  We will also detail any fringe if needed.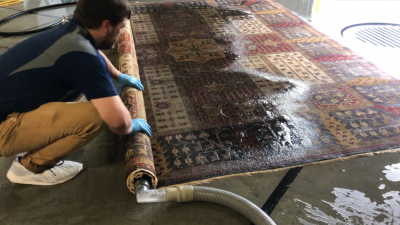 The first step in our drying process is to extract as much water as possible using our van powered extraction system.  We will utilize large air movers to assist in the drying process as well as specialized drying equipment for your area rug if necessary.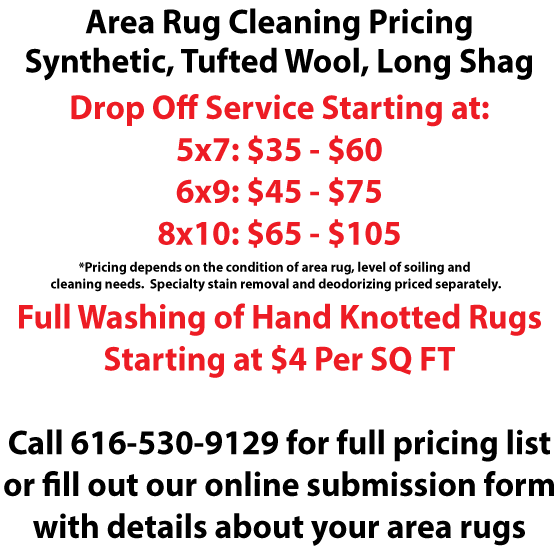 CONTACT US TODAY FOR YOUR FREE ESTIMATE!
We receive requests instantly
Why Should I drop my area rug off instead of having you clean it at my house?
Our drop off rug cleaning service includes an additional air dusting procedure that aids in the removal of fine debris that normal household vacuuming cannot remove. In addition to our rug dusting, our drop off area rug cleaning prices for synthetic rugs will save you money on our in home minimum charges we require. Feel free to call our office at 616-530-9129 with any additional area rug cleaning questions you may have.
We offer 3M Scotchgard™ area rug protection.  The initial protection from the manufacturer wears off over time.  At Top Care Cleaning, we want to help extend the life of your investment.  We recommend having your area rug protected with 3M Scotchgard™.
Area Rug Deodorizing & Pet Stain Removal
We all love our pets, but hate when we find an accident left behind.  Left untreated, pet stains can penetrate deep below the carpet fibers to the backing of the area rug making odor and stain removal very difficult.  Our area rug deodorizer is a natural bacterial enzyme that neutralizes odors and dissolves the odor causing substance.  We have multiple ways we can deodorize an area rug from spot treatments to full wash deodorizing treatments as well.