Carpet Cleaning Rental - professional carpet cleaners vs rental carpet cleaning machines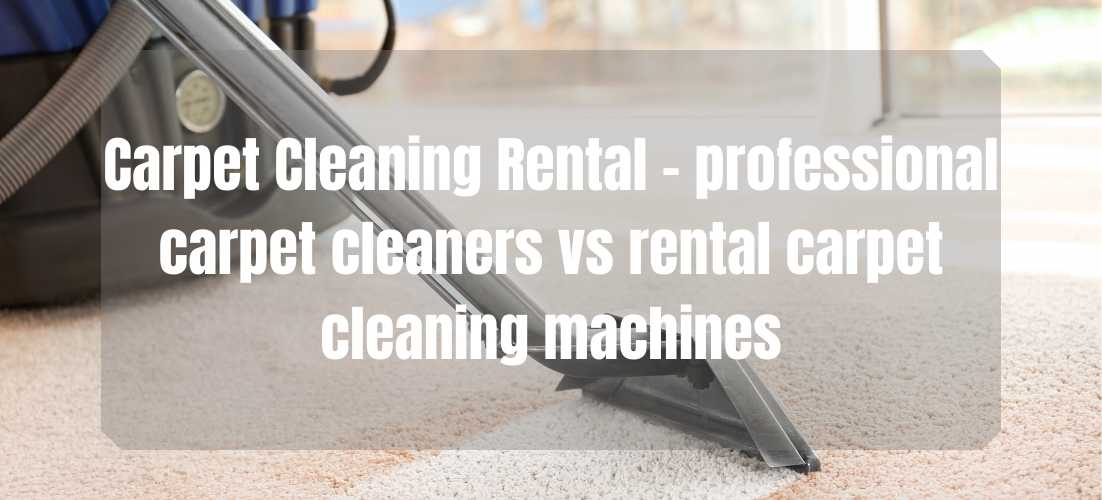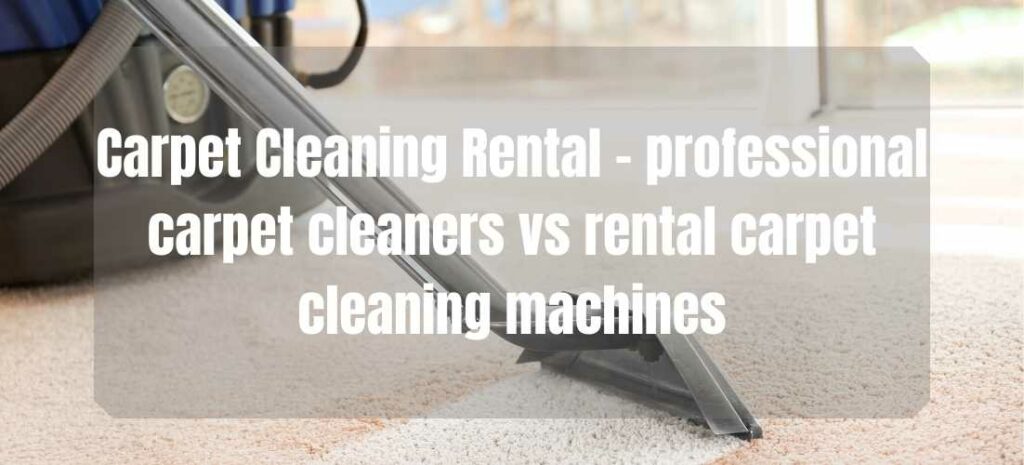 There are a few options open to you when it comes to cleaning your carpets and getting rid of the grime and pollutants that might be present deep within them. You can hire a team of professionals who can use their tools and expertise to get the job done for you. Or you can hire a machine and to the work yourself.
We're going to take a closer look today at these two options, their benefits and drawbacks and which option is likely to be the most suitable one for you. So read on now if you want to find out more and make an informed decision about how to have your carpets cleaned.
Reasons Why People Choose Rental Cleaning Machines
There are plenty of reasons why people choose carpet cleaning machines over using a professional service. First and foremost, the upfront costs of hiring a machine are lower than hiring a professional service, even if those costs alone aren't the only ones that should be taken into account.
It seems like an easier option to hire a machine and get the job done rather than inviting people into your home to do the work for you. Is that really the case though? That's what we're going to take a look at today and compare the benefits of a professional team with the drawbacks of hiring a machine.
DIY Carpet Cleaning Machines Are Far From Perfect
The first thing to know about carpet cleaning machines is that they're far from perfect. And even then, the quality of these products and the outcomes they're able to achieve can vary wildly from machine to machine and depending on where you choose to hire yours from.
One thing that many professionals mention about these machines that can be hired by homeowners is that they're often very weak compared to the professional grade machines that they themselves use as part of the professional service that they offer to their clients. So that's something to take into account.
The Risk of Making Mistakes and Causing Lasting Damage
One of the big risks that comes with trying to clean your carpets yourself is the risk of damaging your property. If you're not a professional, you're not going to be as skilled as using these machines within your home. And if something goes wrong, it could cause lasting and permanent damage to your carpets.
Is that a risk that's worth taking? In many cases it's not because the cost difference between hiring a professional team and hiring a machine is much, much lower than the potential cost of having to have a ruined carpet completely replaced later on down the line.
You'll Waste Less of Your Money by Hiring Professionals the First Time Around
It's also true that many people end up wasting money by first of all hiring a machine, finding that it doesn't produce the results they were looking for and then having to spend even more money hiring a professional team to do the job properly.
That's why it so often makes so much more sense to simply get it right the first time and hire a team of professional people who can do the work for you. It's always cheaper and easy to do the work the first time around and not waste more of your time or money than you need to.
There are also some logistical matters that you should take into consideration when deciding whether you need to hire a professional team or hire a machine. If you do choose to hire a carpet cleaning machine, you'll need to factor in the time and expense involved with driving to pick it up and bring it home.
You'll then also need to take it back to where you hired it from when you're done with it. If you're already leading a busy and hectic life and you have a family to take care of, finding that extra time for those tasks isn't always easy. It's an extra headache that doesn't need to be dealt with when you hire a team of professionals to do the work.
Reliable Results Come From Professional Teams
If you're looking for nothing more and nothing less than the most reliable results from the carpet cleaning approach you eventually select, it probably makes most sense to trust a team of professionals. They're able to produce the results that you're looking for far more reliably than any DIY machine.
Lots of people end up being disappointed by what they're able to achieve with a carpet cleaning machine. So it might not make too much sense for you to rent one if you want to tackle very stubborn stains and really clean your carpets in a deep manner.
The Work is Insured and Guaranteed
When you choose a team of professional carpet cleaners to carry out this kind of work for you, their work will be insured. That means in the unlikely event of something going wrong, you'll be covered. And that's simply not the case when you hire a machine.
Lots of professional carpet cleaning teams also offer a guarantee with their work too. That means that they guarantee you'll be happy with the outcomes. Again, that's something no machine rental service will offer you.
Don't Waste Time - Get it Right the First Time
If you want to make sure that you achieve the outcomes you're looking for the first time around, it makes much more sense for you to hire a team of people to do the work for you. A machine is never going to produce the same results.
It can be tough to know which approach to take when it comes to giving your carpets a deep clean, but hopefully the information discussed here has shown you why it makes more sense for you to place your trust in the professionals and to have them take care of the work for you. Don't hesitate to get in touch with our expert team if you'd like to have your carpets professionally cleaned.