Why are the Stains in My Carpet Reappearing?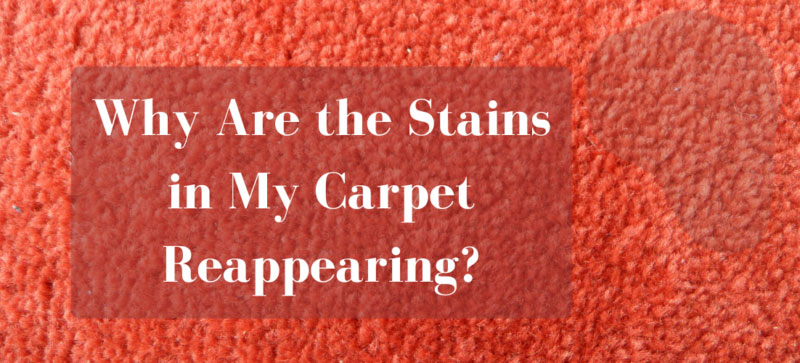 Reappearing Carpet Stains
Have you ever had the experience where you noticed a stain on your carpet, you get it cleaned up and it's looking great, only to walk past again and it's back? It can be frustrating to have a carpet stain reappear that you worked so hard to get cleaned up, but there are two common reasons that this could be happening to you.
Sometimes, if a spot is not rinsed thoroughly after a cleaner or solution is applied, the residue of the solution will stay on the carpet fibers. This residue will attract dirt and debris to the spot that was cleaned. This causes the spot to look as if the stain reappeared.  If you are attempting to clean a stain on your carpet, make sure you thoroughly rinse any cleaning products with water until all the product has been removed from the carpet.
Sometimes the spill that caused the stain soaks into the backing of the carpet (possibly even the pad or subfloor). The stain may be cleaned up on the surface, but after the carpet begins to dry the moisture remaining in the backing of the carpet will wick to the face causing the stain to return. This can especially be a problem for pet accidents which have a chance to soak in. If the urine crystals are not completely removed the odor will persist and the stain may wick to the surface.
If you find yourself with a stain that just won't go away it may be time to call a professional carpet cleaner. Our professional carpet cleaners have powerful van powered tools to extract spills deep in the carpet fibers.  Call our office today at 616-530-9129.