Professional Carpet Cleaning: Is it worth getting carpets professionally cleaned?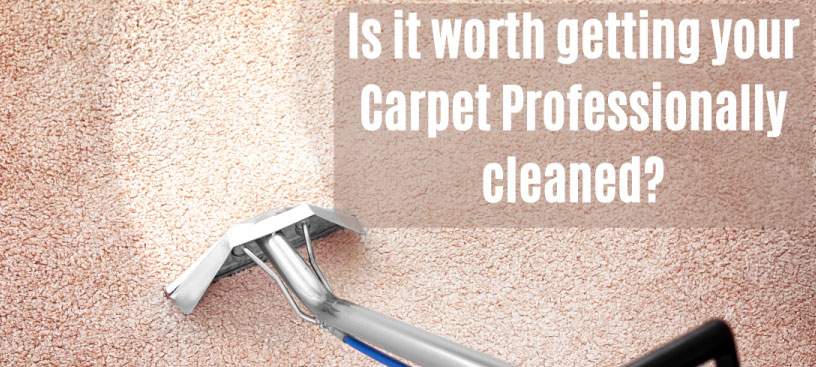 If you've been thinking about having your carpet professionally cleaned, you probably first want to understand the benefits that come with such a choice. Doing it yourself might seem appealing, and simply ignoring the problem altogether might be appealing when you're busy too.
But it's much wiser to address the problem with the help of professionals who know how to get the job done properly. We're going to discuss why that's the case through the following benefits, so read on to find out more about them and why your home will benefit from a professional carpet cleaning service.
Increase the Lifespan of Your Carpet
First of all and perhaps the most important thing to consider is the lifespan of your carpet. No one wants their carpet to be worn out and in need of replacement anytime soon. Carpets of a big investment and you're right to expect them to last a long time in your home.
By having your carpet professionally and properly cleaned on a regular basis, you can make sure that your carpet remains in good condition and isn't in need of repair or replacement for a long time to come. Good and regular cleaning really will increase the lifespan of your carpet and that can't be overlooked.
Potential Health Benefits
There are lots of potential health benefits that come with having your carpet professionally cleaned too. There are lots of hidden pollutants and dirt in your carpet that you can't see and they aren't removed through simple vacuuming. It takes a more professional approach to deal with these challenges.
By having the carpet cleaned, those pollutants and dust mites are removed, and your carpet will be much cleaner. That'll mean that the air quality in the home will also be cleaner and you won't be at risk of breathing in anything nasty or potentially damaging to your health.
It's Cheaper to Clean Than to Replace Your Carpet
If you find yourself in a situation where you need to replace your carpets because you didn't look after them properly the first time around, you'll regret not having them professionally cleaned. It's always much cheaper to have your carpets properly cleaned than to have to replace them early.
So if you've been putting off having your carpets professionally cleaned because you don't want to spend the money, you might end up causing yourself to spend even more money in the long-term. It's a false economy so it's important to consider having them cleaned and having them last a lot longer.
When carpets have been in place for a while and they haven't been cleaned regularly, they can start to develop a smell that's not particularly pleasant. No one wants their home to smell bad and even if the smell isn't yet distracting and overwhelming, it's something that it's easy to feel a little embarrassed about.
You can immediately make your carpet and the room around it smell much nicer when you have them professionally cleaned. The products and approaches we use result in a great smell, getting rid of any of the things that might have been causing it to smell bad in the process.
Your Carpet Will Immediately Look Better
As well as smelling better, the aesthetic appeal of the carpet will also be immediately improved. The carpet is there for many reasons, and one of them is to look good and complement the rest of the decor you have in place. So if your carpet has seen better days, you can fix the issue with a cleaning service.
It's often hard to tell just how bad your carpets look until you compare them with what they look like after they've been cleaned. The transformation can be stark in many cases, especially if you have lighter carpets in your home. Use our services and you'll soon see what a difference they can make.
It's Easier Than Doing it Yourself
If you've been tempted to simply clean your carpets yourself, you might want to rethink that idea. It's usually much better and achieves stronger outcomes if you rely on the professionals. And perhaps most importantly, it's a lot less work for you to let someone else take care of it.
There are so many potential problems that can arise from trying to clean the carpets yourself. And it's often not worth all of that time and effort, especially when you're already leading a busy life.
DIY Carpet Cleaning is Riskier
Another problem with trying to clean the carpets yourself is that the entire process is quite risky when you're not a professional and you don't really know what you're doing. That's why it might be a good idea to use a professional carpet cleaning service and avoid potentially costly mistakes.
Lots of people cause lasting damage to their carpets by accident when they try to clean them themselves and that's not a position you want to put yourself in. And you don't need to either. Trust in the professionals and let people with the right set of skills take care of the work for you.
Get Rid of the Most Stubborn Stains
Some stains can persist no matter how many times you try to clean them. But that might not be the case if you allow a professional team to tackle the task of cleaning your carpet for you. Those stains that you might have long since accepted as permanent might actually be fixable.
With the right assistance from professional teams, you'll be amazed at how many stubborn and persistent stains can be dealt with and removed, immediately making your carpets look so much better and more visually appealing.
As you can see, there are so many great benefits that come with having your carpet professionally cleaned by people who know what they're doing. If the benefits above have convinced you that it's about time to have your carpet professionally cleaned, don't hesitate to get in touch and let us help you out with that.