Window Cleaning Service: Top 8 Reasons to Have your Windows Cleaned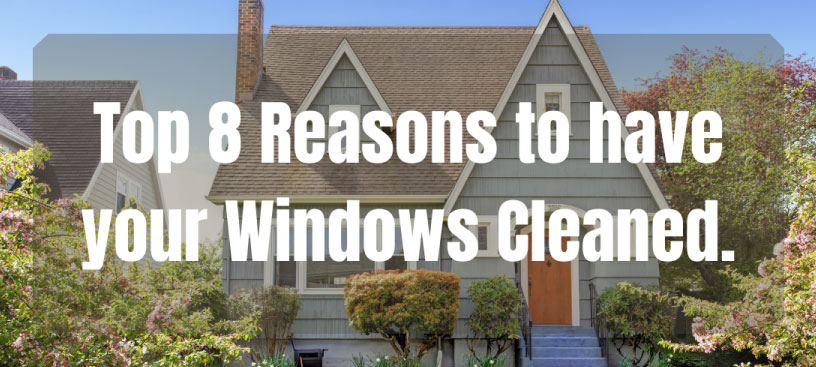 Keeping your windows clean is an important task for a wide variety of reasons. But if you're hesitant to clean them yourself, that's totally understandable. That's why it's often best to make the most of a professional window cleaning service, and it's certainly a better idea than never having those windows cleaned at all.
If you're still not sure about the value of having your windows professionally cleaned or why it might be the best option for you, you're in the right place. We're going to talk about the 8 vital and unignorable reasons to have your windows cleaned by the professionals. Read on now to find out more.
1. Get Rid of Allergens That Might be Present on the Surface of Your Windows
The first reason why you might want to think about having your windows professionally cleaned is down to the fact that having them cleaned will rid your windows of potentially damaging and unhealthy allergens. That's obviously of particular importance if someone in your home has allergies.
People often don't realize that allergens can be present on their windows, but it's something that shouldn't be ignored if you want to improve the air quality of your home. You could be breathing in all kinds of nasty allergens and pollutants if your windows aren't being kept clean.
2. Remove and Prevent Spider Problems
It might also be the case that you have spiders infesting your home and property due to your windows not being kept clean. Windows are the perfect places for spiders to spin their webs and they'll only breed more if you're not getting those webs swept away.
There are plenty of people out there who don't feel a great fondness for spiders, so you're not alone in that. If you're tired of having to get someone to come in remove the giant spider on your wall, one of the best ways to do it is to simply have those webs swept away.
3. Improve the Views Out of Your Windows
Another simple fact that you can't ignore is that your windows impact the view that you get out of them. If the outdoors is starting to appeal a little tinged and hazy out of your windows, that's a sure sign that they're in need of a thorough cleaning by someone who knows what they're doing.
Everyone wants to see out of their windows and perhaps more importantly, you want plenty of natural light to penetrate your windows and pour into your home. That's something that's only going to be possible if your windows are kept clean.
4. Increase Lifespan of Your Window Frames
Something that people often overlook is their window frames and their durability. If they're not being kept clean and in good shame, the grime and dirt might eventually lead to mould and other issues. And all of this will eventually start to impact their integrity.
So if you want to make sure that your windows and window frames last as long as they possibly can, you should make sure that you have your windows and frames cleaned regularly by a team of professional cleaners.
5. Boost Your Property's Curb Appeal
By improving the way in which your windows look and you start keeping them cleaner than they've ever been kept before, you'll find that this also boosts the overall curb appeal of your home. This is particularly important if you're in the process of trying to sell the home.
But, of course, you don't need to be trying to sell the home in order to want to make it look the part and appear aesthetically pleasing to those who see it from the outside. A well presented home is an aim for many homeowners.
6. Impress When Hosting Social Gathering in Your Home
As well as impressing people who see your home from the outside, you'll also present a much cleaner and more aesthetically pleasing home to people who come by to visit. Maybe you're planning a big party or social gathering and you want to make sure your home looks great for it.
If that's the case, you'll certainly want to make sure that your windows have been properly cleaned and that they're not a messy distraction. Unclean windows are very noticeable, so it pays off to have them professionally cleaned.
7. Devote Your Time and Energy to Something Else
Doing it yourself is a big task and it can take a lot of time. If your schedule is already packed with work and family commitments, it makes sense to instead devote that time and energy to other tasks or things that you'd like to spend time on in your spare time.
Devoting energy and time to tasks like this is simply not necessary when you can instead hire a team of professionals who can do this work for you and achieve better outcomes for you in the long-term. Why waste your time?
8. Leave the Ladders and the Risks Associated with Them to the Professionals
Another thing you can't ignore is the fact that you'll need to use a set of ladders if you're going to take on the task of cleaning your windows yourself. That comes with a range of risks and the results could be disastrous if the worse was to happen.
It's a risk that you simply don't need to take. Let a team of professionals do the work for you and let them navigate the safe use of ladders instead. They're the professionals and they know how to do these things safely and without unnecessary risk.
As you can see, there's no shortage of reasons to have your windows professionally cleaned rather than trying to take care of the problem yourself. You'll be safer and achieve much better outcomes by letting the pros take care of things, and you'll be able to spend that time on more important things. So don't hesitate to get in touch with our team if you'd like to take advantage of our window cleaning service.
Learn more about our window cleaning service – click here.
Continue reading our next post on the best time to clean your windows.