How Often Should I Clean my Exterior Windows?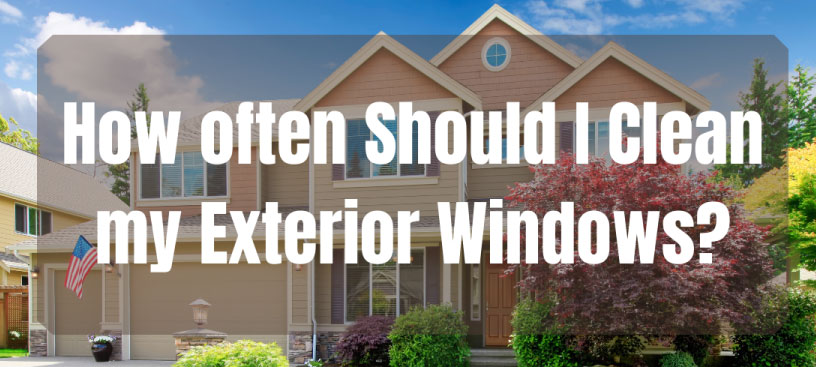 How often do you clean your exterior windows? Chances are, you've been putting that off for some time. Clean and bright windows go a long way in enhancing your building's curb appeal, whether commercial or residential. When your commercial property has clean windows, it appears attractive and inviting to customers from inside and outside.
Whether you're looking to transform your property by making it feel brighter and fresh, or you want to put it on the market, here are some pointers on cleaning your windows.
Residential Window Cleaning
For most homeowners and tenants, exterior window cleaning is done annually. If you're a homeowner and wondering when you should schedule exterior window cleaning, consider doing it at least twice or thrice a year. However, this depends on particular factors like your location, climate, and environment.
Commercial Window Cleaning
These include retail spaces, restaurants, and generally any space that is used for commercial purposes. For commercial properties, it is best to schedule monthly window cleaning services. Because customers will easily notice handprints and dirty windows, ensure that you clean the exterior windows more often.
For larger commercial buildings and office spaces, schedule full or exterior window cleaning twice a year.
Factors to Consider When Deciding On How Often To Clean Exterior Windows
If you live in a wet region that experiences frequent rains, it is best to clean your windows before the rainy season and afterward. Cleaning exterior windows before the rainy season begins eliminates the dust and dirt debris that contributes to the damage to your glass. At the end of the season, window cleaning washes away residue from acidic rain and other pollutants.
The environment around your property also determines how often you should clean your exterior windows. Clean your windows more often if the following applies to you:
There are nearby factories-
During the busy season, you will need to schedule window cleaning services more often to get rid of residue from production and dust.
Your property is located near a busy street –
There is more dust from vehicles and smudges of hand prints from pedestrians.
Types of trees around you –
They could be producing a lot of pollen, leaves, and causing the high wind to blow dust to your exterior windows.
If there's a nearby construction –
Chances are, there will be more dust residue due to heavy machinery and drilling.
If you're planning on putting your property on the market, one of the best ways to impress potential buyers is by cleaning your windows. Buyers want to see that they are purchasing a well-cared-for home. Dusty and dirty windows reduce the curb appeal, making it harder to envision themselves starting a new life in that property.
If you're remodeling your home before putting it on the market, remember to clean the windows and don't forget the screens.
If you're planning for a property evaluation, one of the best ways to push its value upward is through sparkling windows. Schedule for your exterior windows to receive a professional cleaning and enhance curb appeal.
Benefits of Cleaning Your Exterior Windows
Cleaning your windows regularly has many benefits, some of which may be obvious than others, including:
Dirty windows are an eyesore for both commercial and residential properties. When you have clean and sparkly windows, you attract more customers to your business. You are also able to increase property value during property evaluation and impress potential home buyers.
Debris and dust that sticks onto your exterior windows can cause damage over time. Even when the dirt is not as visible, eventually the buildup of dirt and grime results in damaging scratches.
Other contaminants such as acidic rainwater, construction chemicals, and hard water minerals will weaken your windows and reduce insulation properties. Regular window cleaning ensures that your windows remain intact and increases their durability.
The insulation properties of your windows are weakened by contaminants. This means that more of your air from the central heating system is being released into the exterior of your building. Ultimately, you will be using up more air conditioning, leading to high utility bills. With well-maintained windows, you keep the insulation intact, lowering the utility bills.
Increase natural lighting
Dirt on your windows can hinder the maximum entry of natural lighting. To open up your home and make it feel brighter, schedule professional window cleaning services. Dirty windows filter the sunlight, meaning your house will feel colder during winter. Also, lack of enough natural lighting is likely to make your house plants suffer.
To protect exterior accessories
When you clean windows, you are likely to clean your exterior accessories. These could be flower boxes, window frames, and shutters. Cleaning exterior windows protect these accessories from dirt buildup, debris, grime, and cobwebs.
How to Clean Your Exterior Windows by Yourself
To keep your exterior windows clean, you can call in a professional or do it yourself. The first thing you have to consider is observing safety if you'll be the one cleaning your windows. Ensure you have a partner if you'll be climbing a ladder to reach higher windows. Also, avoid leaning out of the window when cleaning exterior windows from inside your home.
The next thing is to have all the essential supplies to clean windows, including:
Sponge
Squeegee
Bucket
Liquid detergent
Two cloths; lint-free
Fill the bucket with approximately two gallons of water; add detergent. Ensure to add correct measurements of each. Wash with the sponge and use the squeegee to wipe in a smooth movement from top to bottom. Lastly, wipe the windows with the lint-free cloth and ensure you don't miss the window frame and track to remove grime, dust, and bugs.
If you're a homeowner, clean your windows regularly, twice or thrice a year, and once every month for commercial properties like restaurants. However, take into account factors that may require you to clean exterior windows more often. You can do it yourself or call in a professional. Eventually, you will reap many benefits from cleaning your exterior windows regularly.
Learn more about our window cleaning service <–

Continue reading our next post on the top 8 reasons to have your windows cleaned.