Window Screens: Why You Should Have Your Window Screens Cleaned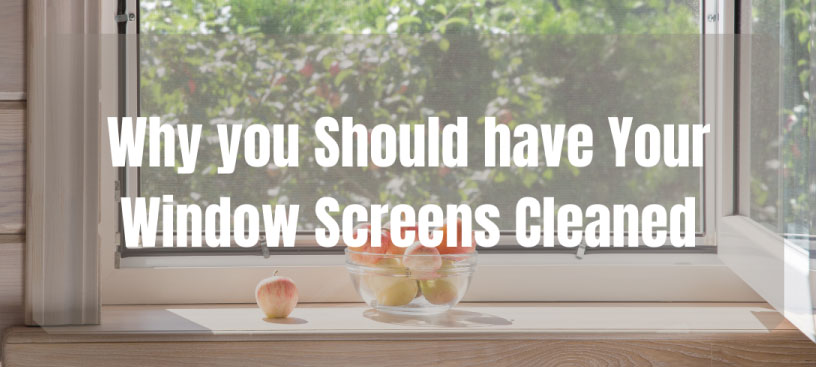 When was the last time you cleaned your windows? Clean windows have numerous benefits: from enhancing the outdoor views to improving curb appeal, clean windows are a crucial part of your home maintenance program.
But are your window screens clean?
Window screens are designed to let fresh air into your home while keeping birds, dirt, and insects out. However, just like any other part of your home, window screens can quickly get dirty. Therefore, cleaning your window screens is equally, if not more important, than cleaning your windows.
Although clean window screens have a less aesthetic impact than what you get after cleaning your windows, clean window screens have more health benefits. Continue reading to learn why cleaning your window screens is an essential part of your overall home's window maintenance program.
Why Should You Clean Your Window Screens?
If you find that your window sills and window screens are dirty, even after you have thoroughly cleaned the window glasses, the cleaned windows won't stay in great shape for long. This is the reason why you should consider hiring a window cleaning service.
Clean window screens improve air quality
The main reason why you should clean your window screens is because clean window screens improve indoor air quality. Spring is around the corner, and if you're like most people, you're eagerly waiting for that time when you will get to open your windows again and enjoy the mellow spring breeze. Unfortunately, you won't enjoy that breeze if your window screens are dirty.
The accumulated dust on your window screens will spread into your house once you open the windows, and the dust will contaminate the indoor air you breathe. What's more, some of the dust will settle on your HVAC filter. This is why spring is a busy time for HVAC technicians. The dirty screens continuously contaminate the indoor air, which increases the cost of keeping your HVAC in tip-top condition.
Clean window screens prevent mold growth
The presence of mold in your home can be dangerous. According to Medical News Today, toxic black mold can cause lung-scarring and brain damage. Keep in mind that any type of mold can irritate the sinuses and lower the quality level of your indoor air.
Mold only needs water and a little organic matter to grow. The dust on your window screens creates the matter once it's blown inside the house. When water gets to this dust, grime, and salt deposits, mold grows.
Regardless of how clean your windows are, they will be marred by the presence of dirty window screens. It is a waste of money to hire a window cleaning service and you leave the window screens dirty. You can easily determine whether your window screens are dirty if you notice a layer of dust on your windows after heavy rainfall.
Because rainwater doesn't have dirt in it, the dust on your windows is from the window screens. What's more, accumulation of dust can cause damage to your window screens. The salts and dust can be turned into acid and disintegrate the window screen. When window screens get damaged, they allow insects to enter your home.
When is the Right Time to Clean Your Window Screens?
According to Houzz, the ideal time to have your window screens professionally cleaned is during late fall, when the temperatures start falling. However, spring is also a great time to take your window screens out and clean them because they've been collecting dust for the last few months. The dust can soil the mesh and give you a less-than-perfect view.
How to Maintain Your Window Screens
Maintaining your window screens is pretty easy. All you need is to make sure that you deep clean them at least twice every year. You can easily wipe away the dirt using a damp cloth. However, if they are extremely dirty, you will need to use a stiff-bristled brush to help you remove the grime.
Part of maintaining your window screens is to keep your windows clean. If they need a thorough washing, you may want to consider hiring a window cleaning service. Experienced window cleaners will help restore the freshness of your windows and window screens.
The fresh spring air and natural light are some of the things we look forward to. However, to ensure that you create a comfortable and healthy living environment when the season changes, contact a window cleaning service to clean your windows and maintain your window screens. This simple task will help transform your home into a bright and sunny place.

Learn more about our window cleaning service <–

Continue reading our next post on how often you should clean your exterior windows.