6 Benefits of Pressure Washing your Office & Commercial Property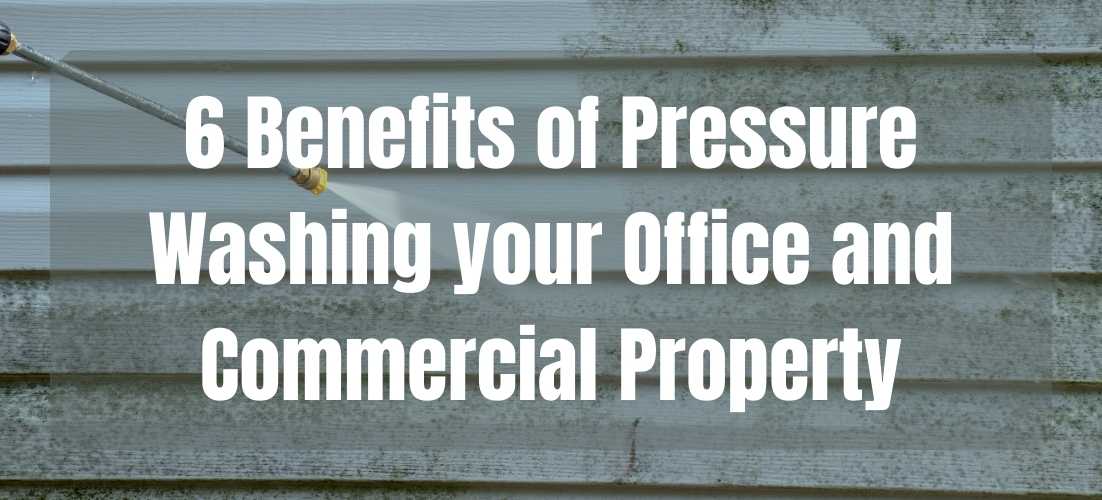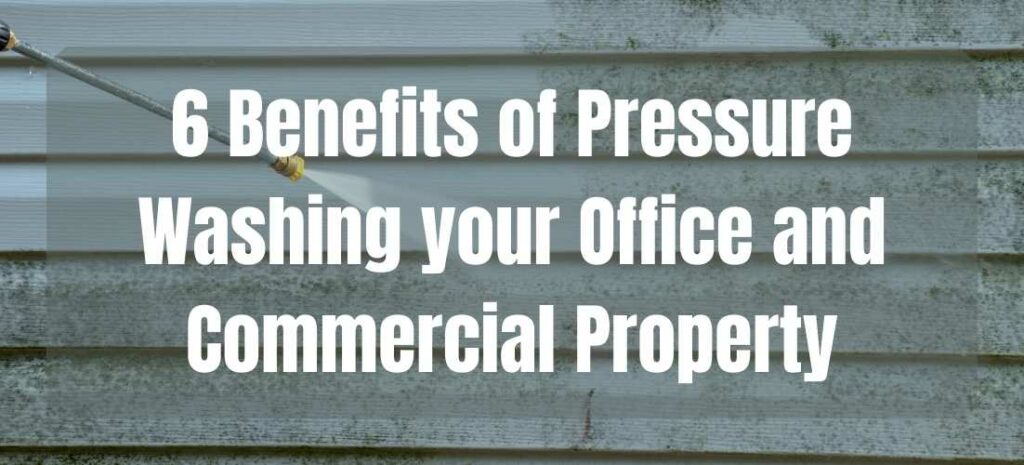 The outside of your commercial property is exposed to dirt and grime all day, every day. Vehicle fumes, dust, debris, bird droppings, pollen, and many more environmental factors can soon build-up and make your office's exterior dirty. Your commercial building is in constant contact with the elements, which can create further issues. Wet weather or snow can create damp conditions that encourage moss to grow on your building, and hot, dry weather can attract dust and pollen, which accumulates on the external parts of your commercial property. 
Keeping your commercial property's exterior looking at its best is essential. The most effective way to ensure that your building stays looking as good as new is to get it cleaned using pressure washing. Here are some of the benefits your business can enjoy when you get your building pressure washed:
1. Create a Great First impression
Curb appeal is not something that is reserved for residential homes; your commercial building needs it too. Having a property that appears well looked after is vital for creating a positive first impression. When clients or potential customers visit your business premises for the first time, you want them to feel impressed by what they see. Getting your building's exterior cleaned is one of the best ways to create this positive first impression.
Choosing to get your office pressure washed is about so much more than mere cleanliness. An immaculate-looking building helps your business to look professional and up-market. If your building looks unloved and dirty, it can give the impression that your company is not performing well, which is the last thing you want clients to think about your business.
Getting your building pressure washed to keep it looking great also helps your employees to feel a sense of pride in their place of work.
2. Keep your Business Premises Clean and Healthy
The impact of the work environment on employees is a subject that has been heavily studied. Research shows that a healthy work environment offers many benefits for employees and their employers. A healthy office environment can boost productivity, wellbeing, and job satisfaction. Creating a clean office environment plays an essential role in achieving a healthy workplace. You probably already get the interior of your office professionally cleaned to keep it healthy and looking great, so why not do the same for the exterior?
Cleaning the outside of a building can be a labor-intensive, time-consuming job. However, when you choose to get your building pressure washed, the whole process becomes so much faster. The great news is that as well as being faster, pressure washing can also deliver superior results compared to other cleaning methods. This means that you get a building that looks as good as new in far less time. 
Having your building pressure washed regularly can cut your cleaning times and costs significantly. Pressure washing is also effective at removing dirt that other cleaning methods will struggle to shift, no matter how much time is spent scrubbing. You are sure to be surprised by the impressive results created by pressure washing, as the difference before and after can be remarkable.
As well as reducing the time that it takes to clean your building, you should also be able to reduce the frequency of cleans, as the results should last longer.
4. Keep Your Property Well-Maintained
Your commercial property represents your business, so it needs to look great. Besides appearances, your office building is also an investment, so it pays to keep it looked after. 
Building maintenance is an essential aspect of operating business premises, and this should never be overlooked. Building maintenance should always be a priority to keep your office a safe and healthy place to work and to reduce the risk of illness and accidents in the workplace.
5. Reduce the Need for Repairs
Getting your building pressure washed could help to minimize the chances of it needing to be repaired. When debris and moss build up on the exterior of your commercial property, they can cause lasting damage. Having your building pressure washed is an excellent preventative measure to reduce the likelihood of damage caused to your building by these contaminants and get them removed before they can do any harm. Keeping your office clean will also make it easier to spot potential maintenance issues such as cracks and weather damage. Early detection of problems will make these repairs far more straightforward and less disruptive.
6. Save on Redecoration Costs
When your building is looking run down and unclean, your first thought may be to get it repainted. Redecorating the exterior of a commercial property can take a lot of time and plenty of money. Regular pressure washing can help to keep your building looking fresh and new without the need for expensive redecoration projects.
Why Should You Choose a Professional Pressure Washing Service for Your Office and Commercial Property?
As you can see, there are many benefits of office pressure washing, but you may be wondering whether it is worth choosing a commercial cleaning company for the job. Using a professional pressure washing service is the best way to achieve a high standard of cleaning for your building. When you choose Top Care Cleaning's commercial pressure washing service, you gain all of the benefits of having your building's exterior professionally cleaned without any of the hassles of doing it yourself. 
When looking for a commercial pressure washing service, you need to choose a company you can rely on to deliver the best results. With more than 40 years of professional cleaning experience, Top Care Cleaning is a family-run business that you can depend on. When you choose Top Care Cleaning to pressure wash your building, you benefit from highly-trained, knowledgeable cleaning specialists with years of experience. Work carried out by Top Care Cleaning is 100% satisfaction guaranteed, so you can be sure that you will love the finished result. 
Call Top Care Cleaning today at 616-530-9129 or fill in the contact form to get your free quote.