How often should you hire a Professional House Washing Service?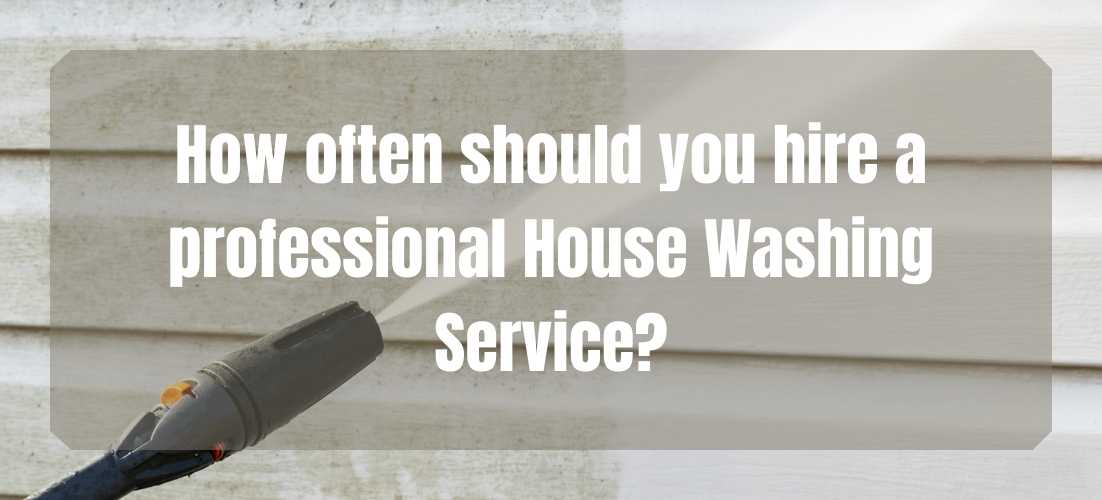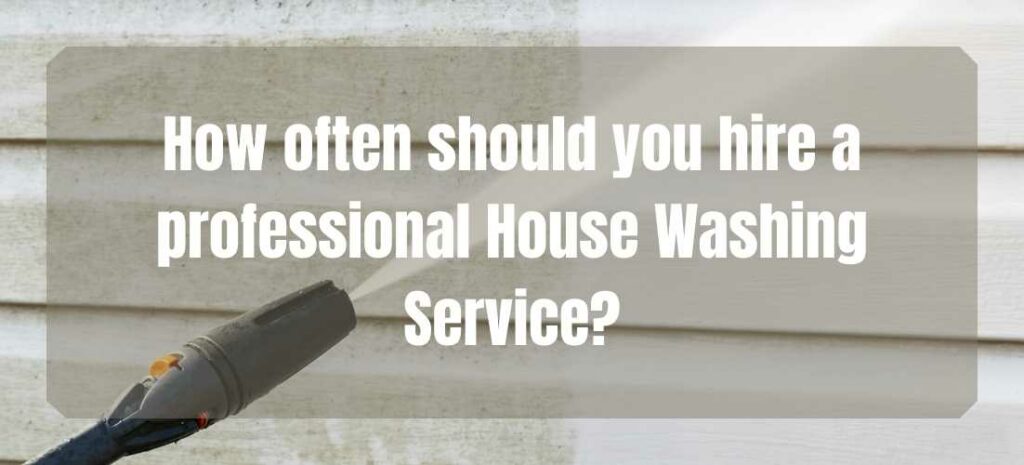 Keeping your home's exterior clean is very important. It keeps your home looking good, and it also helps your home healthy by getting rid of mold, mildew, fungus, dirt, and grime. When you do have your home's exterior professionally cleaned, you will need to decide whether you ought to have it pressured washed or soft washed.
Pressure Washing Versus Soft Washing
Pressure washing and soft washing are both effective ways to clean to wash the exterior of your home. However, they clean in very different ways. 
Pressure washing uses water that is highly pressurized to forcefully remove any dirt or grime that is on the surface that it comes into contact with. This method is very effective, but if it isn't done carefully, then it can pose a risk of causing damage to your property. 
Instead of pressurization, soft washing uses chemicals. These chemicals are safe for both your home and the environment. 
Whether you decide pressure washing or soft washing will depend on which part of your property you are having cleaned.
What Can Be Cleaned With Pressure Washing?
Pressure washing is an ideal solution for cleaning different areas on the exterior of your home, including the exterior siding, your roof, any patios or decks, the driveway, and any walkways. It can be used to shift dirt, loose paint, mud, mold, algae, and other unsightly dirt or stains from your home.
What Are The Benefits Of Hiring A Pressure Washing Or House Washing Service?
In order to properly pressure wash anything, you need a lot of specialist equipment. This equipment would not a significant up-front cost to buy or hire, but if you choose to buy it, will also cost you money to maintain and upgrade it. Rather than worrying about having to track down the right equipment yourself and having to pay for it, you will be much better off hiring a professional pressure washing company instead, as they will already have all the equipment they need to do the job properly. 
If you do decide to try to pressure wash your home yourself, you are putting yourself at risk of injury. Remember that you will be using highly pressurized water, and likely standing on a ladder to clean. This is a recipiee for disaster. What would happen if you fell? A fall from a ladder could result in nasty injuries and some large medical bills. A serious injury could also stop you from going to work, costing you earnings too. There's also the risk if you don't know what you're doing, of causing damage to your home with the high pressure of the water. Instead of taking the risk, high a professional to do the job for you. It's much safer.
How Often Should You Pressure Wash Concrete?
A lot of professionals advise that you should have concrete, like your patio or driveway, pressure washed at least once a year. In fact, the most accurate answer will depend on a lot of factors. In fact, you should be careful not to pressure wash concrete too often. The high pressure can degrade the material, especially if it isn't used properly. 
There are some factors to consider when deciding how often to pressure wash concrete. The area you live in will have an impact. For example, if you live near the main road, or somewhere very muddy, your driveway will likely need cleaning more often to get rid of dirt or grime. If you're about to paint your house, it's a good idea to pressure wash to get a clean surface to work with. If you're putting your house on the market, a good wash gets it to look clean, boosting your curb appeal, and looking good to potential buyers. If you have heavy construction work happening near you, you might need a more regular clean to clear away the dust of building work. If you're not sure, you can speak to our techs who can advise you when you might benefit from a clean.
How Often Should You Hire A Professional House Washing Service?
You should always use a professional house washing service when you need a deep clean, to avoid the risk of hurting yourself or causing damage to your home by getting the pressure washing wrong. How often you should hire a professional cleaning will depend on the same factors as above. The area you live in, how you use your space, what's going on around your home, and whether you're planning to sell, paint, or renovate will all factor into whether you should be bringing in the pros for a house wash. 
If you think you might need your home pressure washed, called Top Care Cleaning to talk through your needs and find the service that will best suit you, your home, and the results that you're looking for. 
In between the deep clean of a pressure wash, you can keep things looking good by using the spray nozzle of your garden hose. Pressure washing is the most effective option for a clean, but you can keep your property looking smart between sessions by sweeping or hosing. 
For all your pressure washing needs, you should always hire a professional like Top Care Cleaning. We service the greater Grand Rapids area providing a wide selection of cleaning services including carpet cleaning, window cleaning, gutter cleaning, upholstery cleaning, area rug cleaning, blind cleaning, tile/grout cleaning, and 24-hour emergency water damage restoration. Call us on 616-530-9129 for a free estimate. 
Our dedication to our clients, years of experience, knowledgeable technicians, and professional training programs are only a few reasons that Grand Rapids residents have chosen Top Care as their cleaning service provider year after year. Customer Service is our focus and our success is built around providing an exceptional cleaning experience for every client that we work with.