Roof Cleaning-Why is there moss growing on my roof?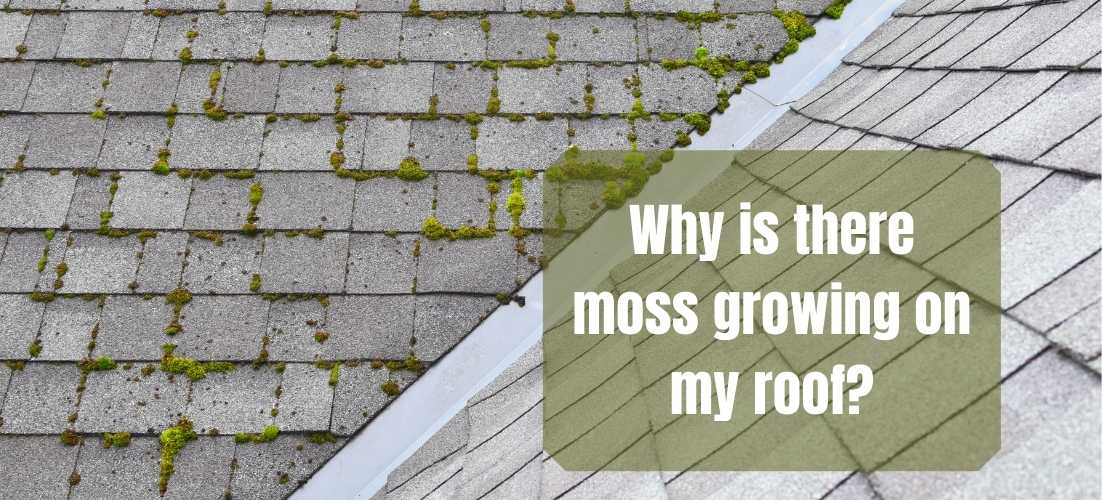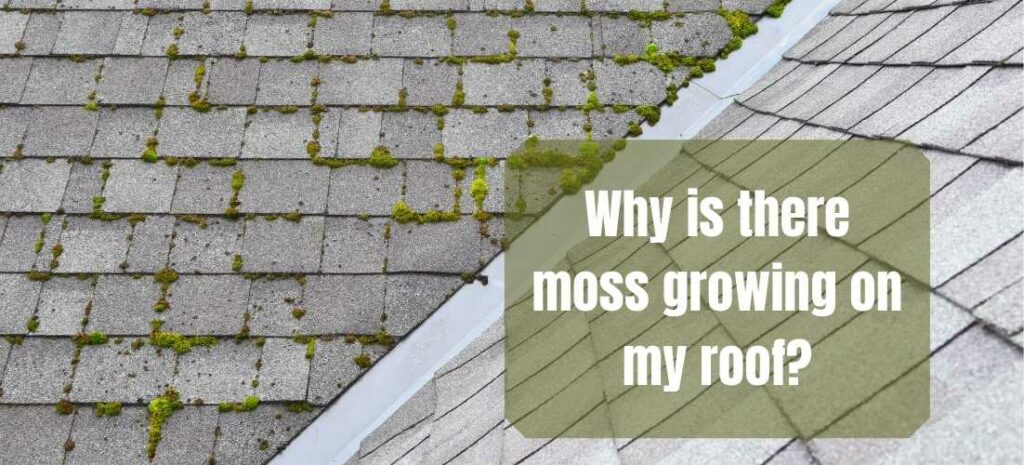 A clean roof adds curb appeal to your property, repels water, and just looks good. You might need to replace the occasional roof tile, but there are bigger problems that can affect the look of your roof. Lichen, mold, and moss. 
These unwelcome plants and fungi transform your roof into something ugly and easily damaged. You might be tempted to leave it alone, but you're risking more than a roof that doesn't look pleasing to the eye.
Why Are Things Growing On My Roof?
You might wonder why your roof has grown a carpet of moss in the first place. The answer is based on two factors; moisture and warmth. 
Mold, lichen, and moss thrive in warm, moist areas, which unfortunately makes the roof the ideal breeding ground. The roof is meant to repel water from entering your house, but the roof can easily become the reason that the moisture ends up sticking around. 
A few things can cause this. One of the most common causes is neglecting to clean your gutters. The gutters then become clogged with leaves, twigs, and other debris, and act more like a sponge than a spout. If larger debris, like fallen branches, falls on the roof and doesn't get removed, then it can slow the drainage of rain from the roof. Poor roof drainage, thanks to poor installation or damage over time, can also cause excess moisture to build up on the roof. 
Combine these issues with a hot summer, you have the perfect recipe for moss to thrive.
How Can Moss Damage My Roof?
The only thing that you want to have on your roof is roof. Anything else that is growing up there or collecting is only going to cause you problems. Even if the problem is only a cosmetic one, the damage can quickly become a big issue. Nobody wants to buy a house that has a lot of moss all over the roof. Even if you aren't planning on selling your house any time soon, an untidy-looking roof isn't very pleasant to have to look at every time you come home. 
In reality, the damage caused by moss or lichen can go a lot further than just looks. Anything on the roof is going to get in the way of water trying to reach your gutters. If this route is delayed, moisture will collect in the roof, wear it away, find its way inside. Moss grows thicks, almost like grass, so is able to hold onto a lot of extra moisture. 
Moss also has rhizoids, which act as roots. These can get under your tiles and form them to shift, warp, or crack. Moisture held in the moss can freeze and cause cracks in your roofing too. 
Mold is a fungus that can get airborne and be a health risk if it gets into the house. When any growth builds up on the roof, you risk exposing your rafters and other wood in the house to moisture, which can become a perfect breeding ground for mold. 
Mold can cause minor symptoms like coughing or a runny nose, but if you are more sensitive, it can cause more serious symptoms like nosebleeds, headaches, or nerve damage. 
A reliable roof in good repair is also one of the most important factors to any potential home buyers. Even if the lichen or moss on your roof hasn't started causing any real damage yet, it will definitely make a negative first impression on anyone coming to view your home if you're trying to sell it. 
If you're planning on selling your home any time soon, then the last thing you want to happen is for buyers to mistakenly view your home as a fixer-upper, as they'll also expect a lower price in order to counteract the cost of repairs, if they're not put off buying altogether. Unfortunately, this is exactly what will happen if you don't get your roof properly cleaned when moss starts to become noticeable. The lower offers that you receive, and the reduced number of offers that you get will act as proof of the problem of a mossy roof.
How Do I Get Moss Off My Roof?
If you have moss on your roof, then the best way to get rid of it is to call in professionals. There are some DIY solutions, but they do come with the risk of accidentally causing damage to your roof while you're trying to remove the moss. 
Trying to do it yourself could also cost your money if you end up needing roof repairs after getting it wrong. Some roof cleaning also needs commercial-grade chemical solutions that you might not have access to or might not be able to use safely yourself. 
Top Care Cleaning will determine the nature of your roof cleaning problems and use a low pressure, light impact soft wash to remove the growth of moss or any stains. You should be wary of a company that will use a high-powered pressure washer on your roof as their automatic solution to your problem. The high pressure on the roof is more likely to cause damage to roof tiles and usually isn't needed. Low-pressure soft washing and old-fashioned elbow grease are often all that is needed and don't cause damage to your roof. 
For all your pressure washing needs, you should always hire a professional like Top Care Cleaning. We service the greater Grand Rapids area providing a wide selection of cleaning services including carpet cleaning, window cleaning, gutter cleaning, upholstery cleaning, area rug cleaning, blind cleaning, tile/grout cleaning, and 24-hour emergency water damage restoration. Call us on 616-530-9129 for a free estimate. 
Our dedication to our clients, years of experience, knowledgeable technicians, and professional training programs are only a few reasons that Grand Rapids residents have chosen Top Care as their cleaning service provider year after year. Customer Service is our focus and our success is built around providing an exceptional cleaning experience for every client that we work with.