Top 5 reasons to clean your rain gutters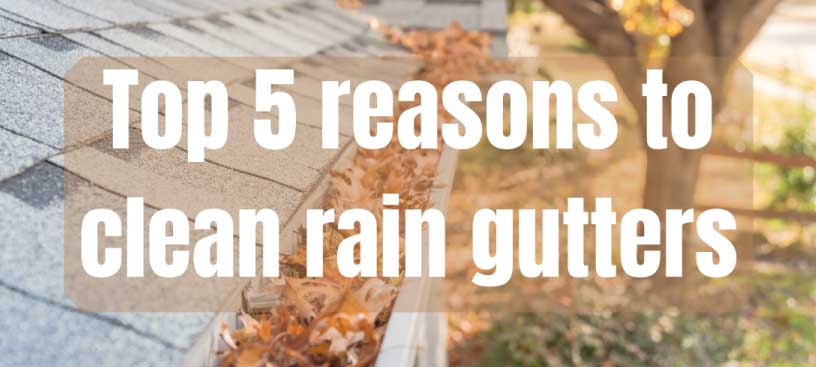 As a homeowner, you obviously love your home. However, cleaning muck out of your gutters is probably not your favorite afternoon activity. Yet, routine gutter cleaning is integral if you want to keep your home's foundation, roof, and exterior free of water and unwanted materials.
This simple task will only cost you a few hours but make up for the thousands of dollars you would spend in repairs in case of water damage to your home, damage to your roof, or collapsing gutters due to the heavy gunk.
While there is no possible way to make cleaning your gutters sound enjoyable, it is an important and essential task to your overall home maintenance. Here's why you should clean your rain gutters.
One of the main reasons why you should clean your gutters is to avoid potential water damage. According to Green Built Alliance, water damage causes structural damage. Homes have gutters because they help to channel water away from the roof, foundation, and house.
Clogged gutters can quickly flood the foundation of your home and diminish the integrity of your property. Apart from damaging the foundation of your home, blocked gutters can cause leakages on your roof that can further damage your floor, ceiling, walls, and other parts of your home.
When left unmanaged, these problems can affect the stability of your home and reduce its value.
Enhance Curb Appeal and Increase the Value of Your Home
Gutters are some of the parts of your home that enhance the beauty of your home. This is mainly because they're among the most noticeable parts of your home. When neglected, they can fall off, they may be filled with stains, and they can also stain the fascia boards.
Dirty and rusty gutters can negatively impact the integrity of your home and reduce its value. Additionally, a house with clogged gutters may not attract buyers. For these reasons, you may want to consider cleaning your gutters, especially if you're planning to sell your home.
Protects Your House against Basement Flooding
Basement flooding is a major issue that is often caused by congested gutters. This happens when the clogged gutters overflow and rainwater spills in the area near the basement. The water seeps through to the basement and causes flooding.
Basement flooding can be hazardous as it accelerates the growth of both mold and mildew. According to WebMD, mold and mildew are some of the major causes of respiratory disorders. What's more, mold spores often cause allergic reactions.
Basement flooding also causes damage to the interior décor of your basement, ruin your furniture, spoil your electronics, and other valuables that you might have stored in your basement. Gutter cleaning can help to minimize basement flooding by channeling the rainwater to the designated drainage.
Have you ever noticed that a single side of your rain gutter is bent and out of shape or even cracked? One important thing to note is that the crack or bend didn't occur by itself. The chances are that there are animals to be blamed. A clogged gutter doesn't just block rainwater from coming out of the roof but also offers a home to animals and pests that live close.
Don't be fooled by the size of the gutter, and think that it is too small to accommodate any animal, especially the big ones like raccoons. Animals that build nests from sticks and leaves will find your clogged gutter very welcoming. Pests like squirrels and rats like to build their nest up high, far from their predators. And the gutter might just be the perfect spot as it offers them a viewing spot to avoid being dinner for the house cats or dogs.
Cleaning the gutter is an excellent way to reduce animals and pests from building their homes in your gutters. Keep in mind all the damages that they can cause to your home and the cost of fixing things. It is best to stop them by cleaning the gutters.
To start, trim the trees regularly to eliminate the bridges. If you are uncomfortable, leave the ladders to the professionals. This might feel like an extra cost, but it will be beneficial in the long run.
Critters that can be making a home in your gutters might include:
Birds

Chipmunks

Lizards

Possums

Squirrels
You can have gutter rails installed on your gutters to discourage animals and pests from making their homes in your gutters.
Insects that nest in the gutters tend to cause some damage. Remains from falling leaves and other foliage clog up the gutter when left open. Rainwater then starts to collect in the gutter and provides an excellent home for insects like mosquitoes. The adult mosquitoes then tend to lay their eggs in the stagnant water within the gutters.
Apart from the mosquitoes, many other insects like termites, carpenter ants, millipedes, centipedes, and stinging insects like wasps can make a home in the gutters. Cleaning the gutters is the best way of preventing insects from making a home there and avoid insect infestation that can lead to damages.
Many things can contribute to ice buildup in the gutter. It can be caused by a clogged gutter. Ice buildup can have a major impact on your roof gutters. The extra weight can lead to cracks, and the gutters will eventually fall or separate from the roof.
Having your gutters cleaned is the best way to prevent ice buildup and prolong the life of your gutters.
Spotting Damage from Clogged Gutters
It is better to spot damage from clogged gutters even before its starts. You can hire a professional to do a visual inspection. Below are a few warning signs of a dirty and clogged gutter:
Indications of animal life

Drenched gutters or gutters that don't drain at all

Pools of water near the driveways or the foundations
How Often you Should Clean your Gutters
Depending on the type of vegetation that you have close to your home, it is advisable to have your gutter cleaned twice every year. However, gutters can be cleaned once after every three months if the foliage around your home is pine trees.
Have you been neglecting your gutters? Cleaning your gutters is an essential part of your home maintenance program. Dirty gutters eventually cause water damage, reduce the aesthetics of your home, allow animals into your home, and cause ice buildup. Protect yourself and your loved ones today by seeking professional gutter cleaning services.


Learn more about our gutter cleaning service here!

Continue reading about clogged gutters.