How Often Should I clean My Gutters?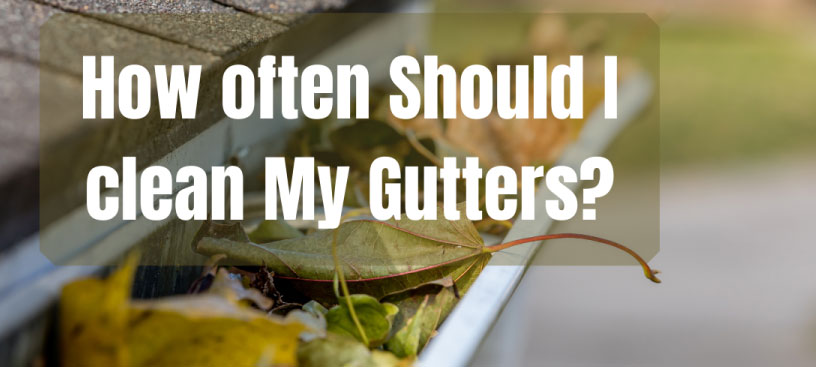 You'll struggle to find anyone that enjoys cleaning their gutters. It's not a task you look forward to, yet it's one of the most important home maintenance tasks to keep up with. When your gutters aren't cleaned, they can cause blockages that lead to all sorts of costly problems. Not to mention how unsightly they make your home look! 
Most homeowners have the same question: how often should you clean your gutters? The answer isn't that simple as it can depend on different factors. So, we've put together a guide that will help you stick to a gutter cleaning schedule.
Cleaning your gutters in spring and fall
General gutter cleaning advice is that you should clean your gutters in spring. This is because you've had the whole wintertime of high winds and loose leaves/debris blowing everywhere. Spring is a great time to unclog your gutters and give them a fresh start for the warmer seasons of the year. This should keep your gutters clear up until fall time. Now, this is when your gutters really suffer as the leaves fall off your trees and the weather changes. As such, it's also recommended that you clean your gutters in the middle of the fall season. 
By following this general advice, you shouldn't have to worry about any gutter problems. The average household can manage with only two gutter cleaning sessions a year. Of course, other factors might make you increase your cleaning schedule.
Types of trees around your home
Firstly, if you have trees that grow close to your home, you're automatically going to need to clean your gutters more frequently. Here, you will probably have to clean them at the beginning and end of fall, then again at the end of winter/start of spring. It's purely because the trees grow close to your home, making it more likely that the leaves will fall onto your roof and into your gutters. 
So, any type of tree that sheds its leaves will be a problem for your gutters. However, if you live near pine trees, the issue becomes even worse. Pine trees are somewhat unique in that the needles fall off all the time. A pine tree sheds its needles throughout the year, not just in the fall/winter. Thus, your gutters can quickly become clogged with pine needles if you're not careful. At Top Care Cleaning, we suggest having your gutters cleaned every 3-4 months if pine trees grow close to it.
Gutter cleaning and the weather
The weather conditions in your area are another factor to consider. If you live in a mild climate with hardly any rain or wind, you won't have to clean your gutters as often as someone in a windy and cold area. Of course, wind combined with nearby trees leads to clogged gutters. If there's ever an extended period of bad weather near your home, it might be worth cleaning your gutters after.
Likewise, really cold weather is problematic as it can cause your gutters to be frozen over. If it rains, then gets cold, the rainwater lingering in your gutters can mix with any debris and then freeze, creating a blockage. This shouldn't be an issue for most people, but if you live in really cold areas, you might want to clean your gutters in winter as well.
Residential vs. Commercial gutter cleaning
If you own a commercial property, your gutter cleaning schedule might be different from a regular homeowner. When you run a business, reputation is everything. Therefore, you need to keep up an impressive brand image, which consists of ensuring your business premises look excellent at all times. 
Consequently, it makes sense to clean your gutters more than twice a year. You could perhaps increase it to three or four times a year – possibly even once a month if you really want to keep things clean. Ultimately, it's your decision – do what you think is best for your business!
Signs of damage from unclean gutters
As we mentioned earlier, gutter cleaning is an essential home maintenance task. Why? Because without it, you can end up with the following problems:
Mold growing due to clogged gutters

Clogged gutters causing water damage to your home

Leaks in the roof and basement

Damage to the home foundations

Pests making nests in your gutters
Dealing with these problems is time-consuming and costly – not to mention stressful! This is why it's best to clean your gutters so you can avoid having to deal with them. Moreover, it can be useful to know the signs that your gutters need to be cleaned, so you can deal with them before anything bad happens. Here are a few things to look for:
Excessive debris – can you see loads of leaves, twigs, or other debris in your gutters? If you can see them overflowing from the ground below, it tells you there must be lots in there. You can also try looking out of your upper-story windows for a better look at the gutters. 
Water overflowing – do you see a mini waterfall outside your house when it rains? If water is streaming down the side of your home, it shows that your gutters are clogged and the rainwater isn't going through the pipes. This is a key sign that they need to be cleaned. 
Signs of animals – are there birds constantly flying around your home? Can you hear them walking along your gutters? Do you notice any nests up there? If there are telltale signs of animals in your gutters, it's a problem as their nests will definitely cause blockages. 
If you spot any of these problems, it makes a lot of sense to clean your gutters right away. You can do this yourself, but it is somewhat tricky. You'd need a large pole to reach up, with an attachment that cleans away all the debris. Of course, you could head up to your roof via a ladder, but that's dangerous. 
In turn, you could seek out professional gutter cleaning services to handle this task for you! Why put yourself at risk when Top Care Cleaning can safely remove any debris and dirt from your gutters, leaving them sparklingly clean. If this interests you, feel free to get in touch.

Learn more about our gutter cleaning service here!

Continue reading our next post on the history of rain gutters.